Submitting Content
Welcome
Now that you have seen how these functions can be applied, perhaps we have evoked the creative instinct in you. We would love to have you supply any missing pieces to this ongoing puzzle and tableau constituting Hedy Lamarr's life story.
Here is what you will need to do to become a contributor.
First, you will need to create an account and follow all the necessary steps to validate yourself as a user.  Make sure you select Contributor Level.
Once your account is approved and active you will be able to post content.  So go ahead and get logged in to continue.  Login links are at the top and bottom of every page.
Once you are logged in you will notice another toolbar.  You will find the link to add a new post on the uppermost toolbar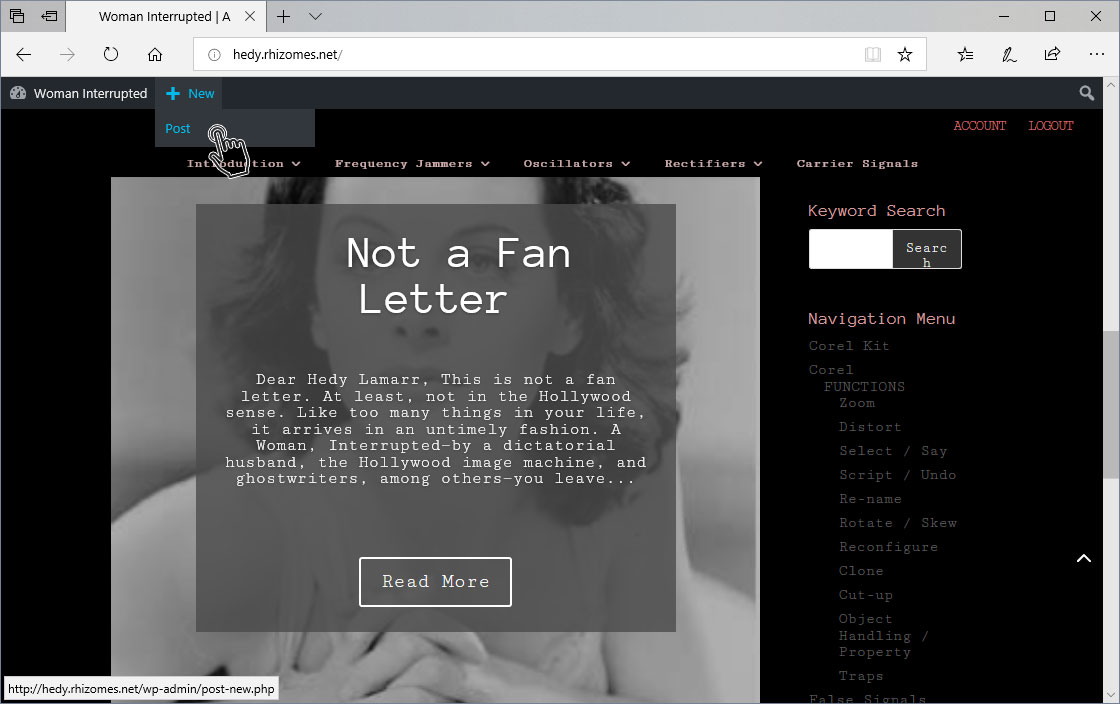 Let's get started.  This is where you will add all of the content and graphics to your submission.  Start by adding the title.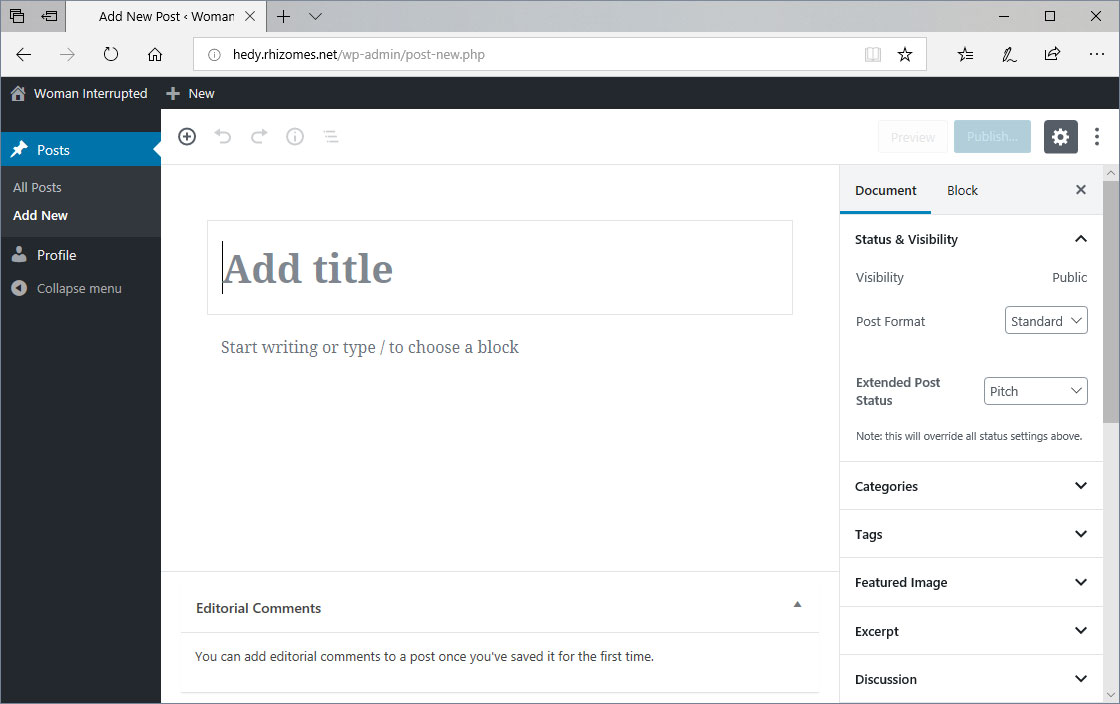 Next you will add your content.  It is recommended that you have it pre-written and simply copy and paste it into the website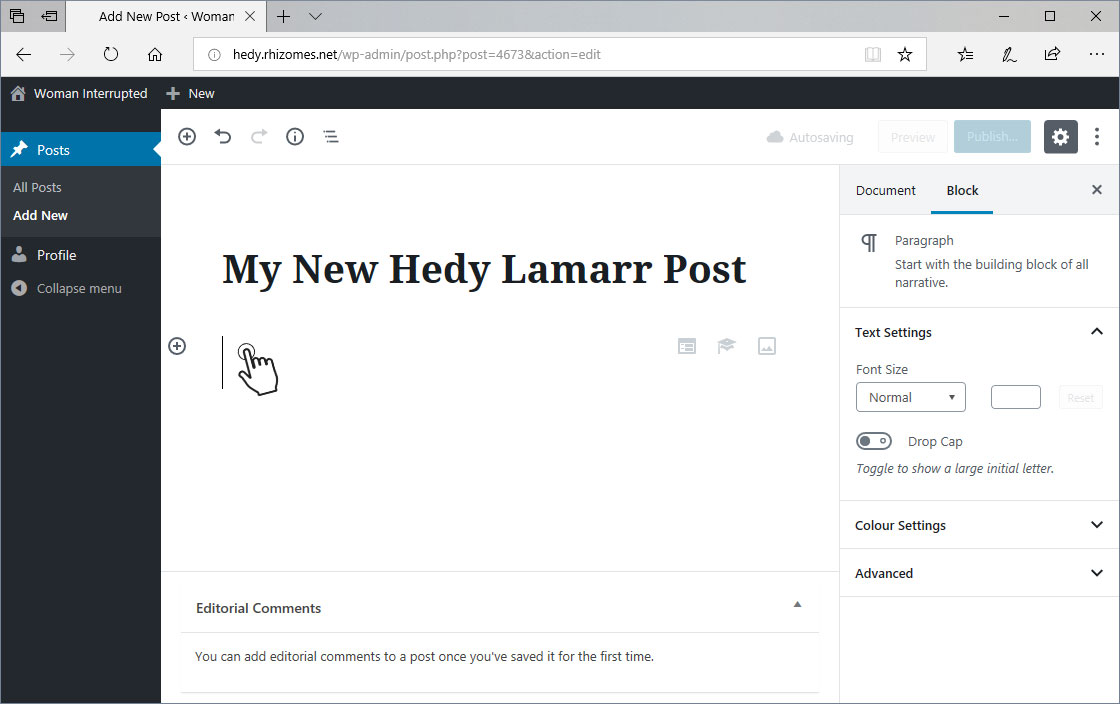 You are able to add multiple blocks to your post.  Most likely you will want to add images to your post.  While you are inside your text block you will see the formatting menu with the options menu on the right (3 horizontal dots)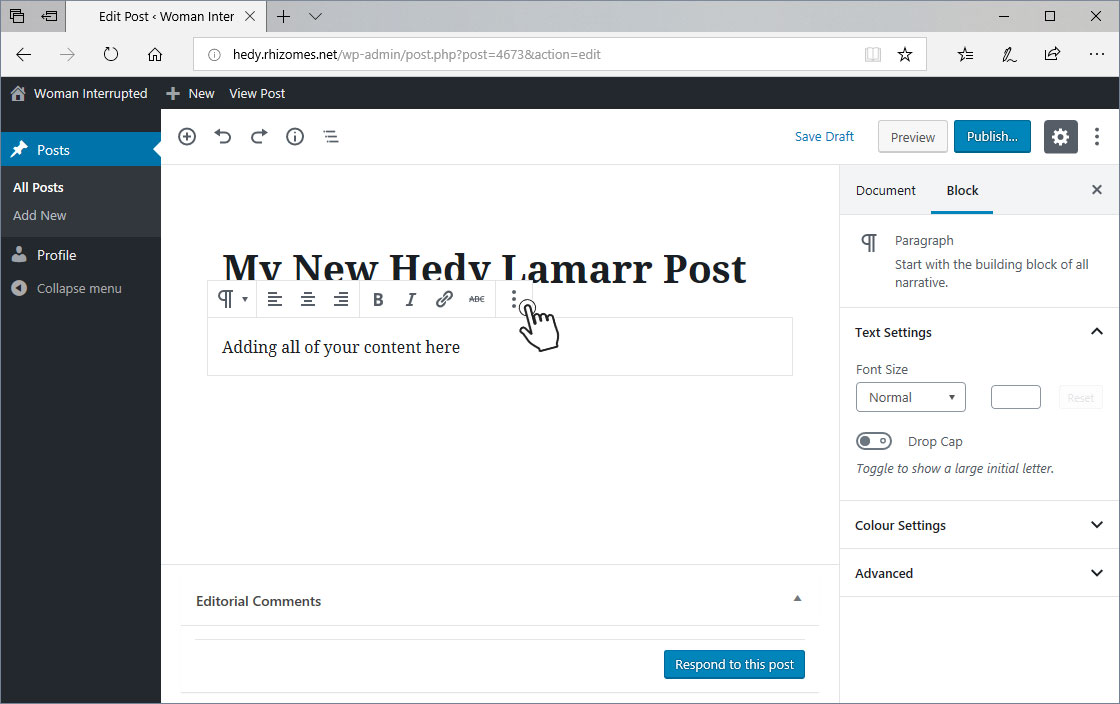 Click on Insert After to add a new block below.  You may also add blocks above or drag and drop your blocks so they are in the correct order.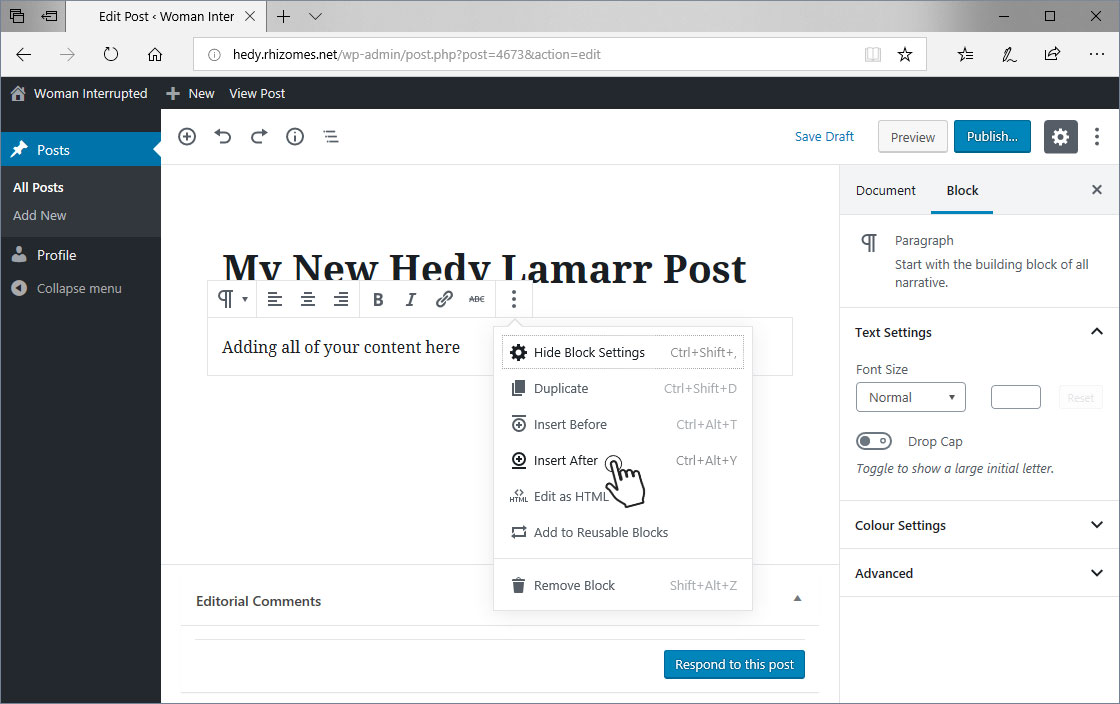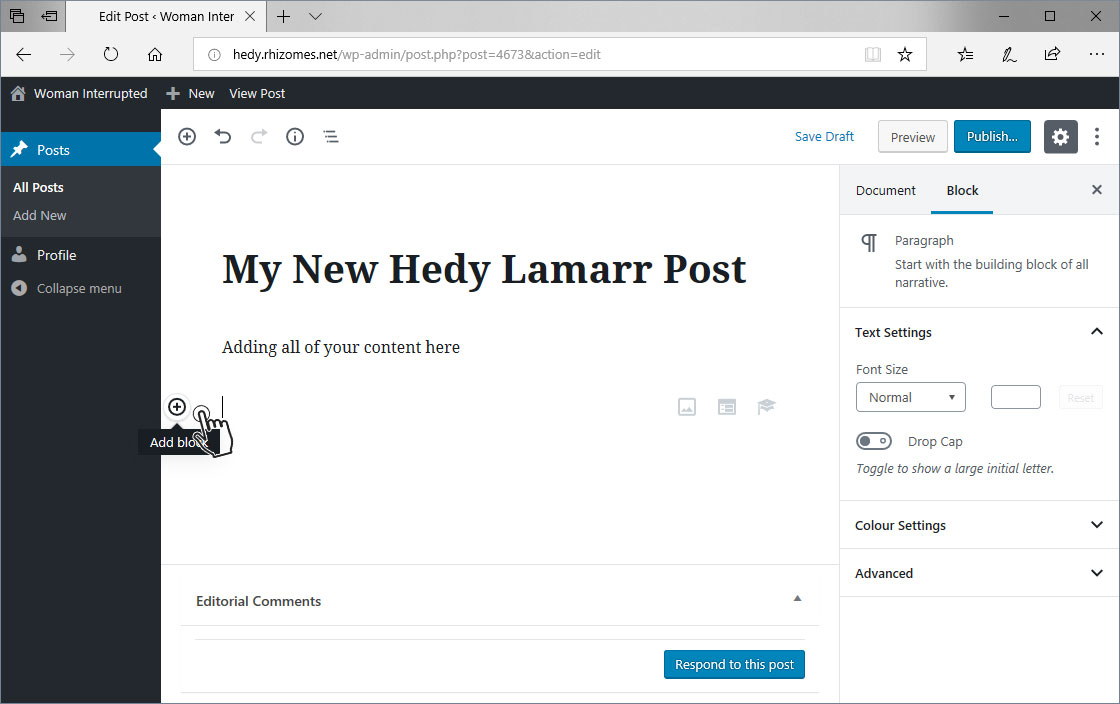 There are two ways to add an image to the post.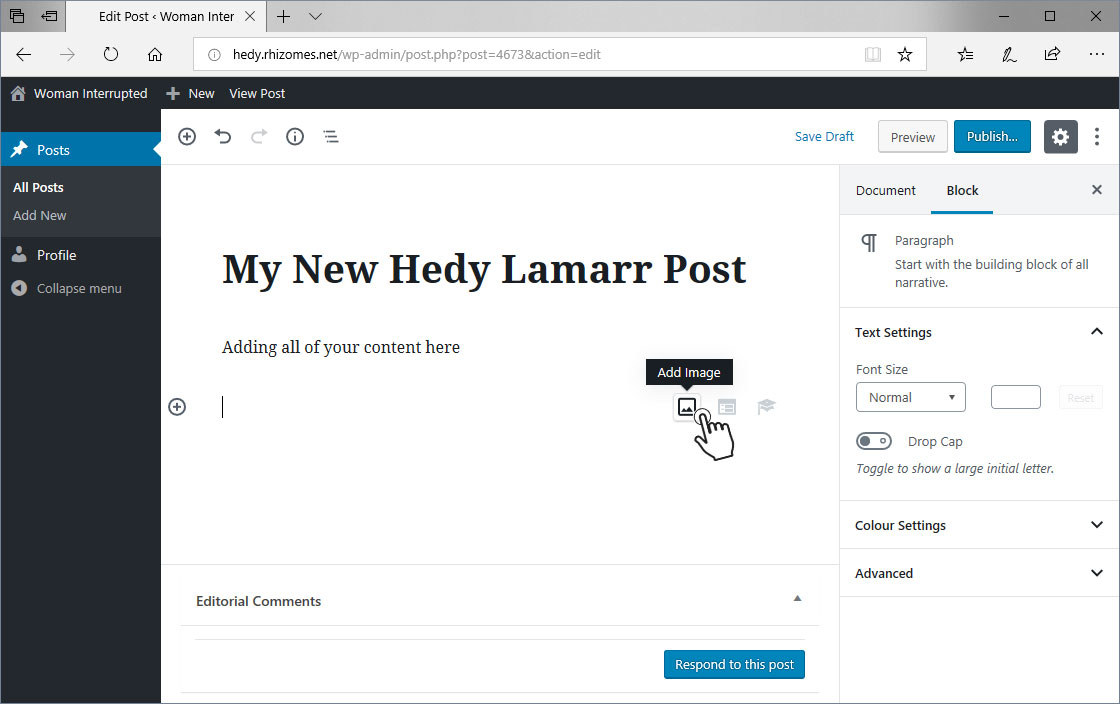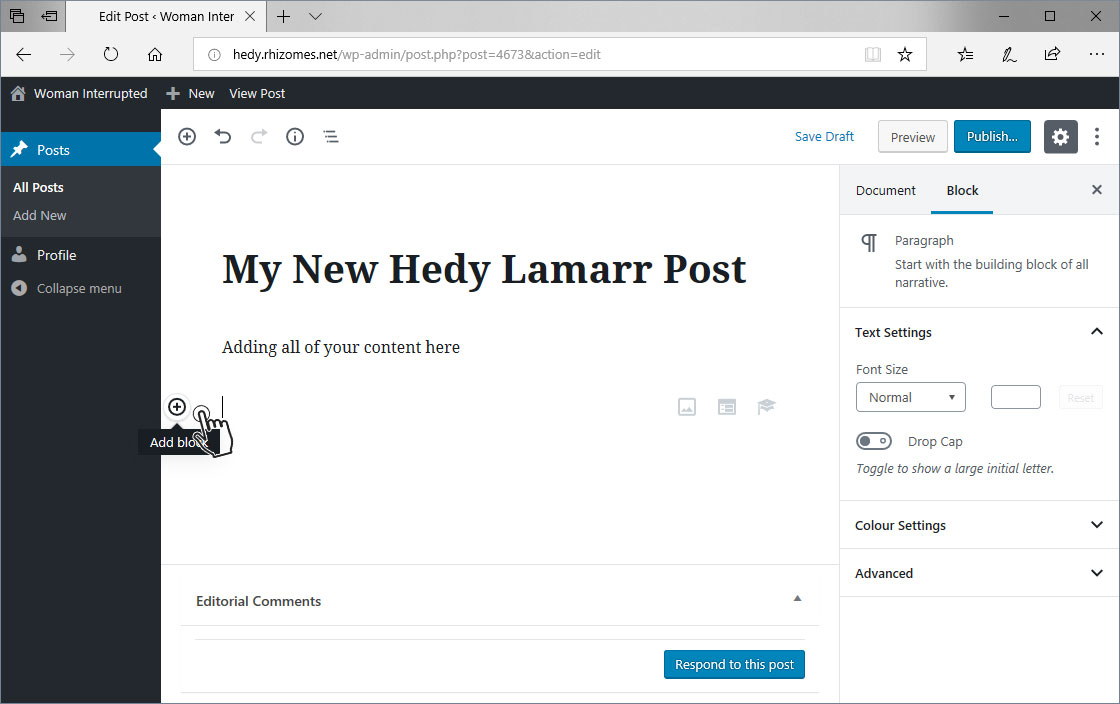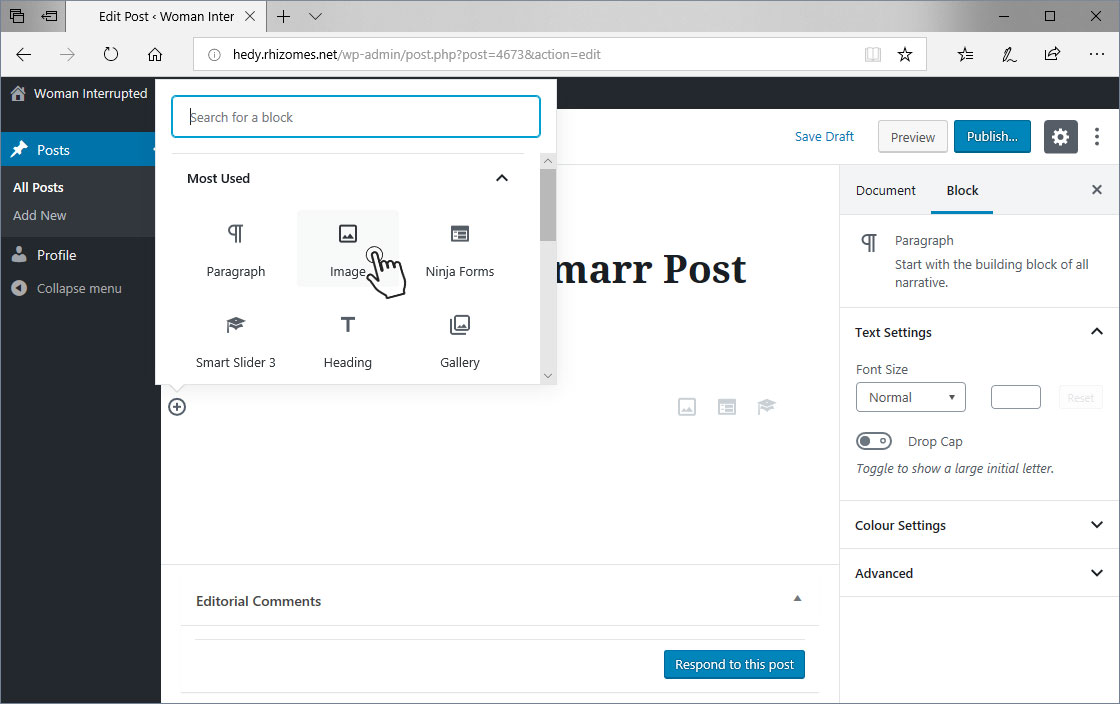 Now select Upload Image.  It open your computers browser so you may select the image to upload.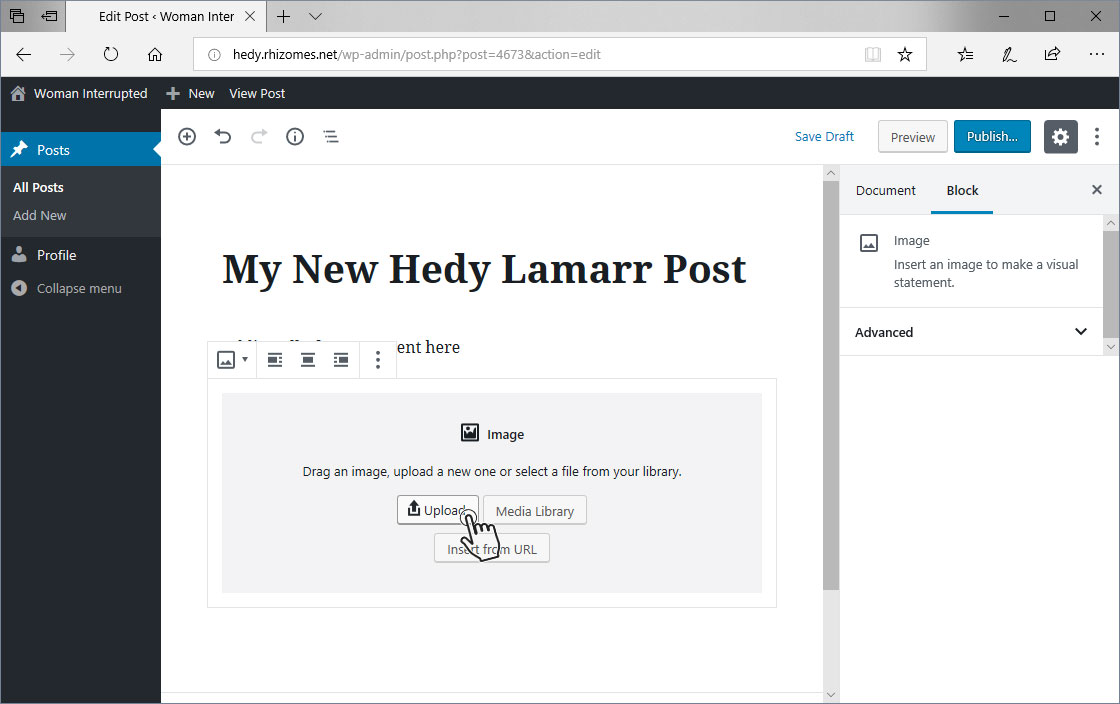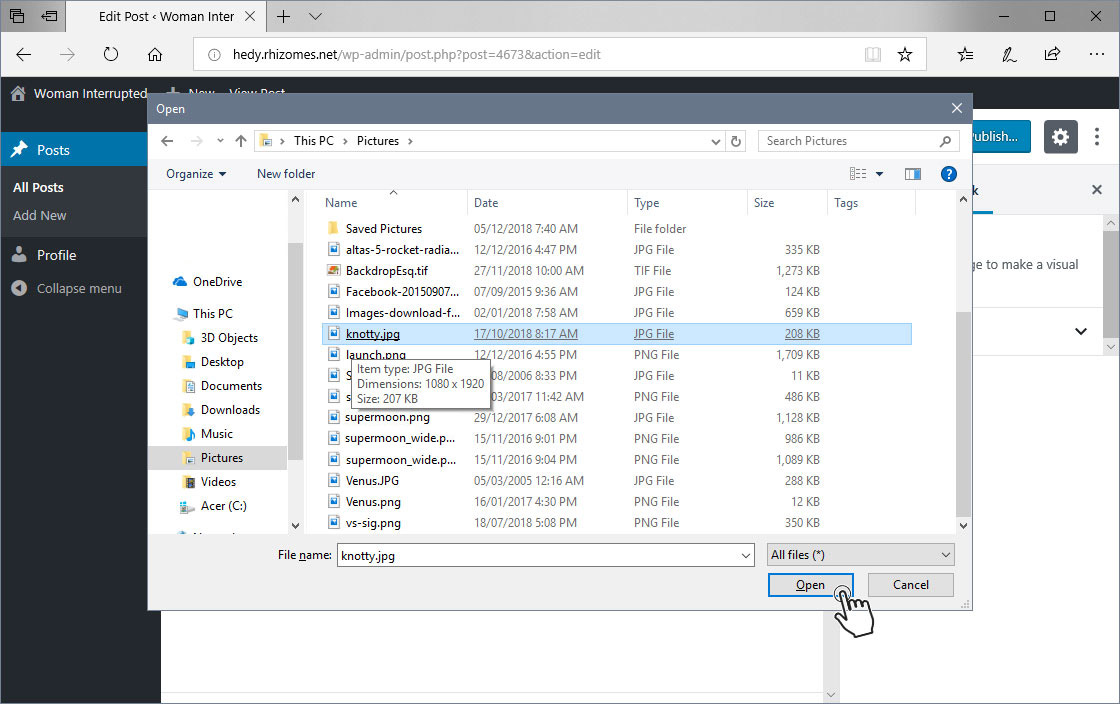 Continue to add images and content as you have.  Do not worry about color or other formatting as our designers will modify your post to match the existing formatting of the site.
Finally you will want to publish your post.  Click on the Publish button on the top right side of the screen.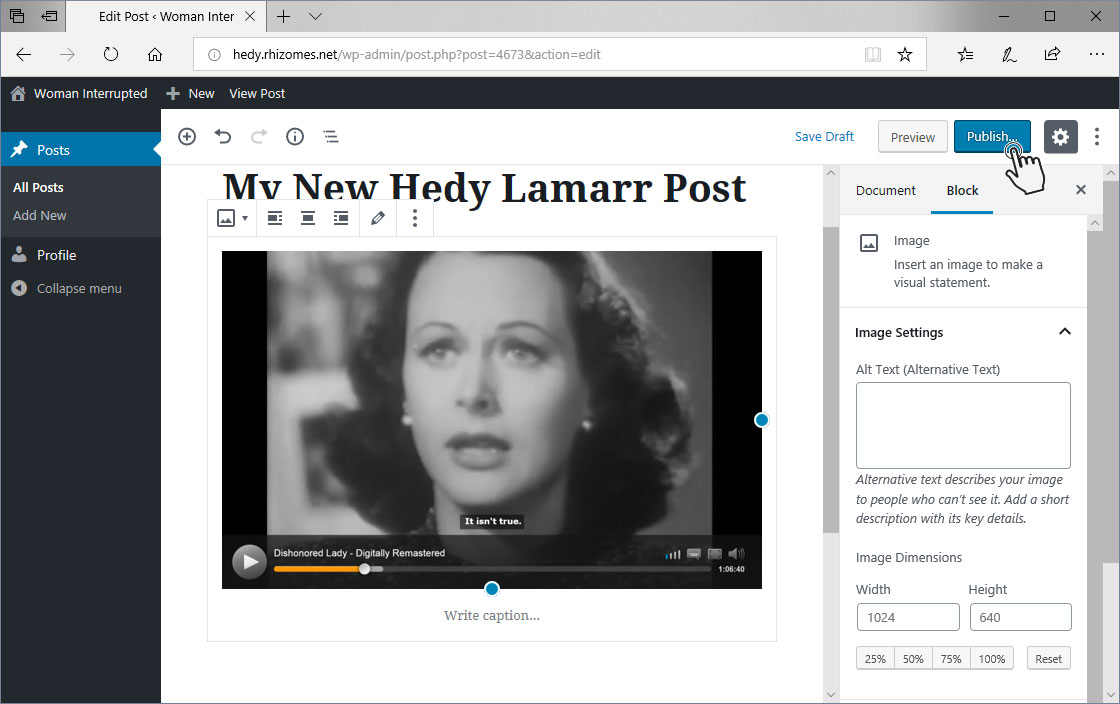 Finally, hit Submit for Review.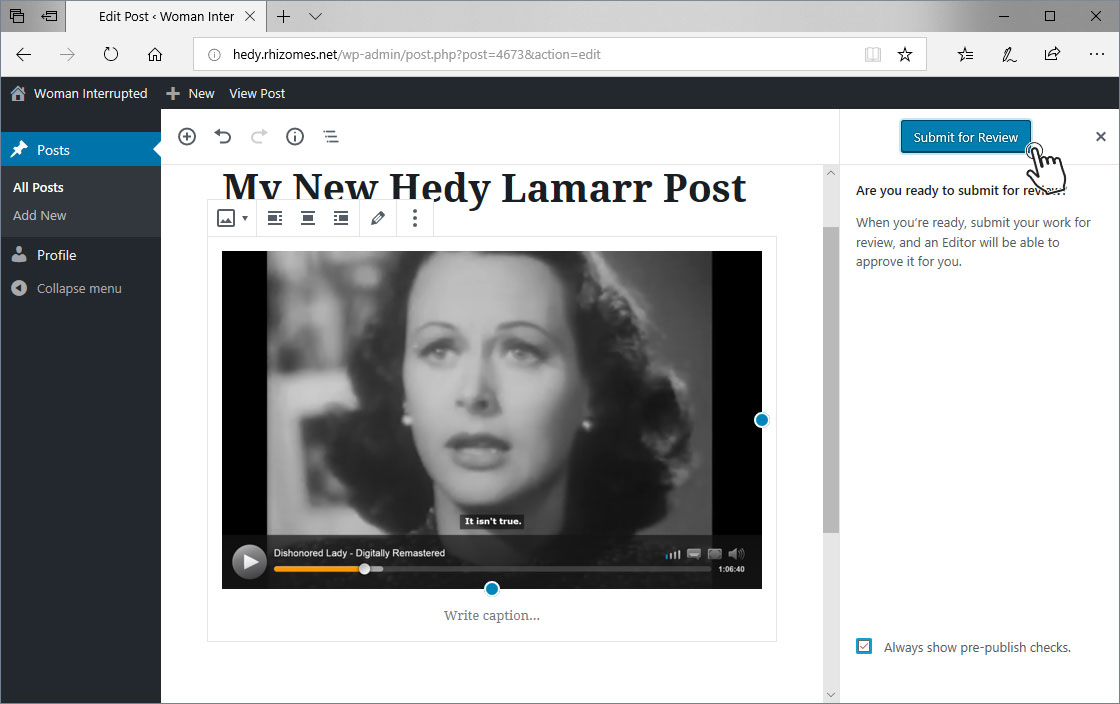 To view your posts you have contributed click the All Posts menu on the left side.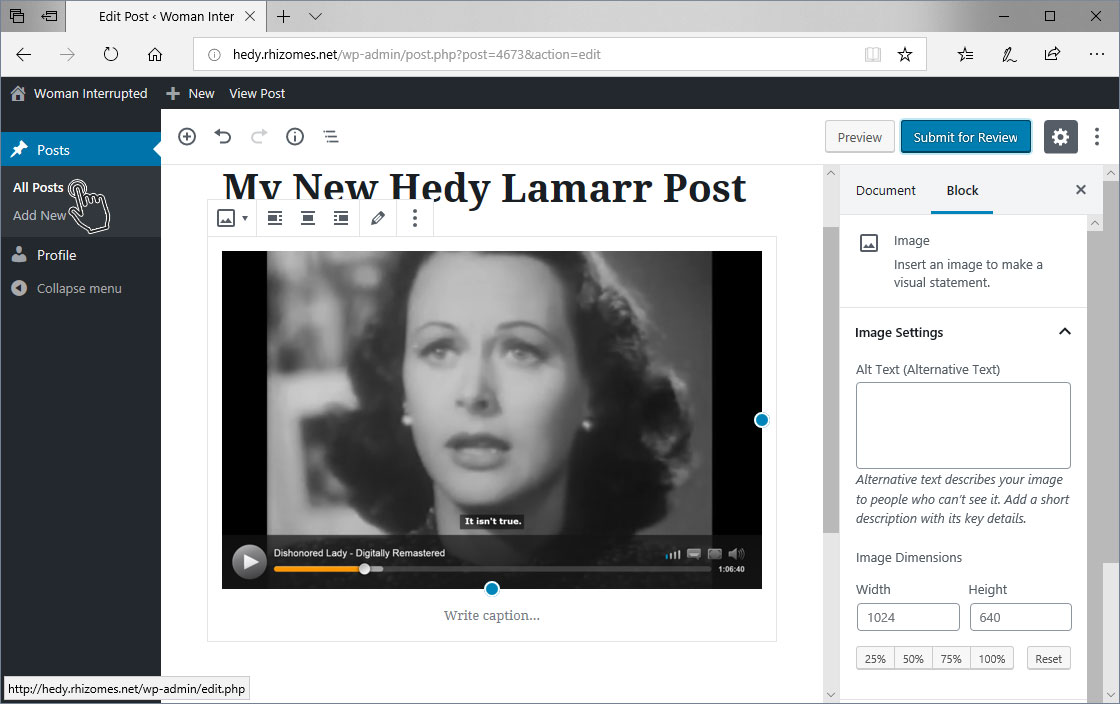 This listing represents all the posts you have contributed.  You are able to click on any one of them to edit that post.
Please Note:
Once your post has been approved and formatted, it will no longer appear in this list as you will no longer be able to modify it due to the new complexity.  If you wish to make a modification, please submit it in a comment at the bottom of the post.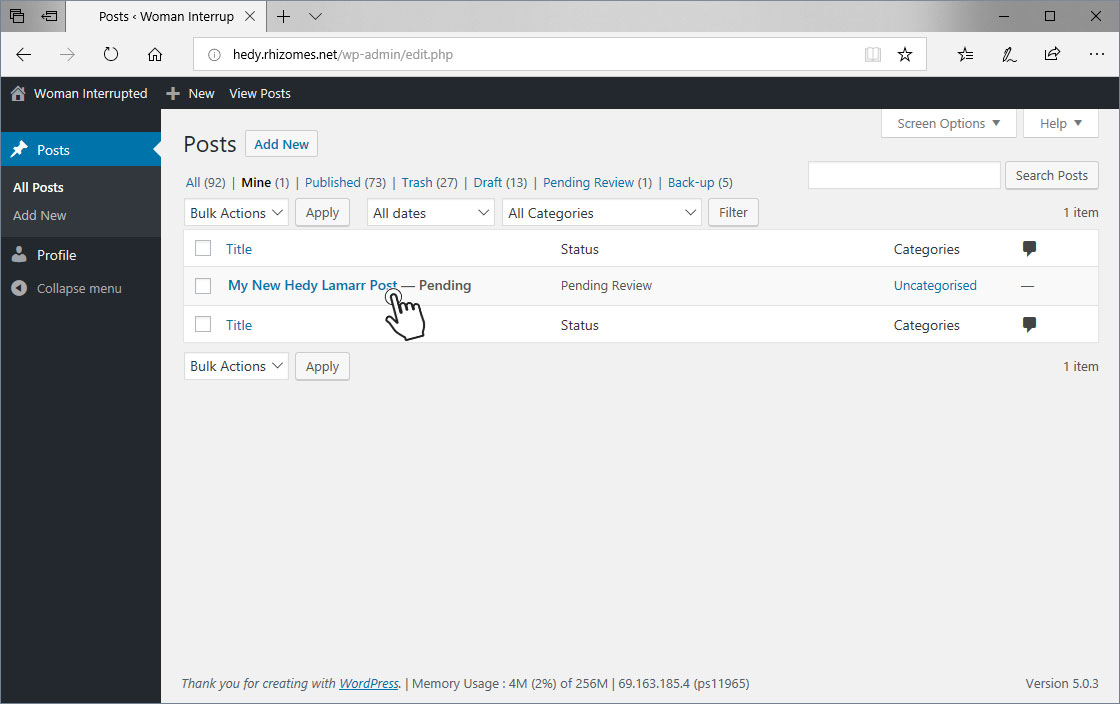 To go back to the website to continue to explore, your way back is located at the top left side of the page.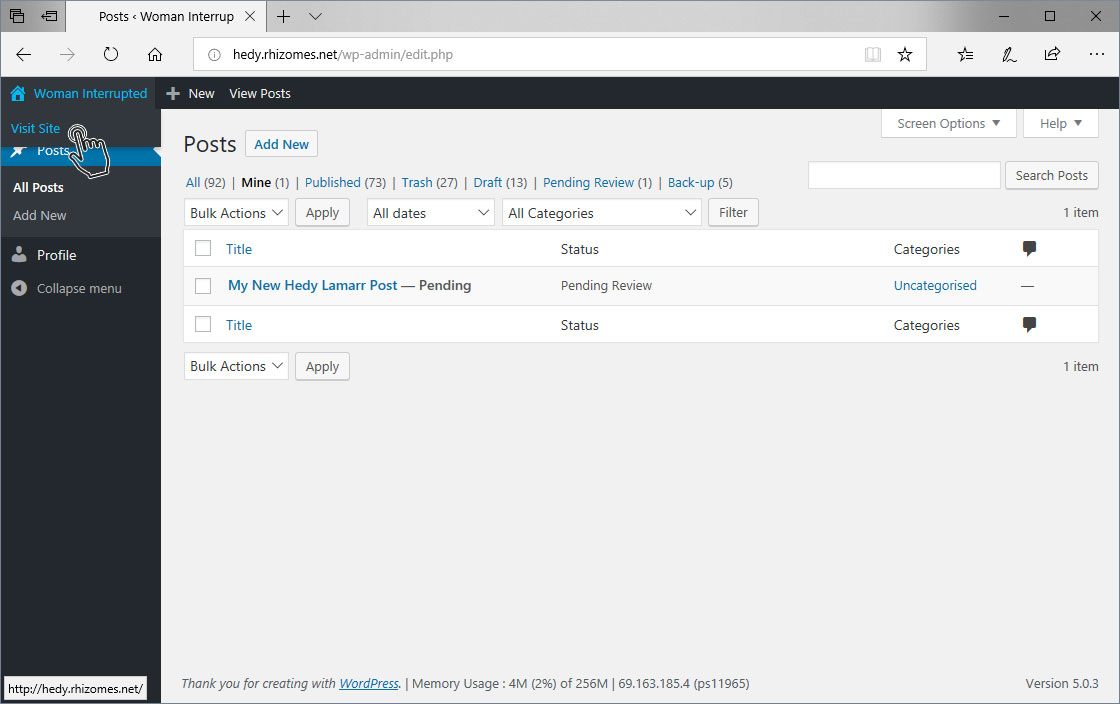 For assistance with the post builder, you may contact our technical department via our contact form, or access the documentation for the post builder online here.
This video may also prove beneficial.