Note
This is a good page to come back to often to easily find the 10 Corel FUNCTIONS.  To get back to an abridged version of this page, you will find it labelled FUNCTIONS on the side menu.
What's in Corel's Tool Box?
If you open the box, you will find any number of design tools. We have focused here on 10 FUNCTIONS at the bottom of this article waiting for you to start exploring.
Each of these FUNCTIONS is described in detail. We have also included examples of how each FUNCTION can be applied. Our goal is to make you so well acquainted with their operations that you will become an unlicensed Corel designer, able to contribute to this project if you so desire.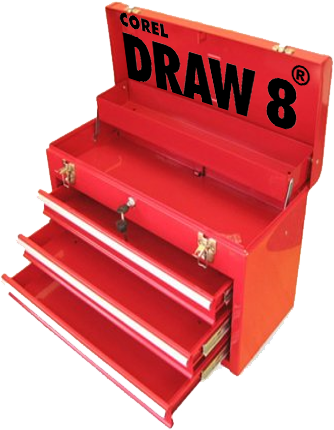 Now, a complicated project such as the one we will take on can be helped immeasurably by Corel's docker windows, customizable dialog boxes with features such as command buttons, options, hot-keys, color palettes, etc.  As reviewer Matt Neuberg notes, one finds here an embarrassment of riches, "lots of floating windoids, so you'll need plenty of screen real estate." These windoids can be docked along the edges of the application window, allowing for multiple functions and real- as well as delayed-time operations.
As kit-bashed tools, these FUNCTIONS can be re-purposed–by me and by those who want to lend a hand to this project. For example, clicking on the ZOOM FUNCTION listed below, you will find it applied to the trick use of a telescopic lens in Ecstasy.
After you review the FUNCTIONS and their applications, we invite you to consider how they might be employed in analyzing and critiquing other elements of Hedy's life.
Have some suggestions? Send them along—as a subscriber, you might qualify as a co-creator in this project!  CLICK HERE to learn more.